We specialize in carrying quality outdoor grilling and barbecue products designed for the backyard gourmet.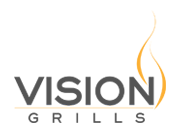 For decades grills all looked alike. Innovation was no where to be found. Vision Grills is all about creating grills that are truly innovative – where every detail has been designed to make grilling easier and even more enjoyable. Features like expanded cooking space, bamboo detailing and a reduced spatial footprint make the grilling experience even more fun. With grills that respect and protect our environment, by using 75% less charcoal, we can enjoy the outdoors, while protecting our environment and our planet.

Made from the highest quality materials, with the most advanced features for today's discerning outdoor cook, and backed by the industry's best warranty, Fire Magic is the last grill you'll need to buy. And with an extensive line of premium accessories from refrigerators to side burners, Fire Magic makes it easy to create an extraordinary outdoor kitchen. Discover the grill you've been dreaming of.

Napoleon works with its customers designing and implementing features sought after by discriminating consumers around the world. Time after time Napoleon has led the way with new and innovative patented technology: luxurious Gourmet Gas Grills, exclusive Infra-red grilling experience and some of North America's most advanced state-of-the-art technology. Innovative engineering and design, advanced manufacturing techniques, dedicated customer service, outstanding product quality, and superior warranties distinguish Napoleon® from its competitors.

If you want the convenience and durability of a quality gas grill but are limited on space,Weber Grills are for you (high-rise and condo dwellers, take note!). The Crossover Ignition System lets you light the twin stainless steel burners at the touch of a button and maintain precise temperature control. The porcelain-enameled cooking grates will stand up to years of cooking, so load them up with your favorite steaks, veggies, or fish. You can expect consistently-tasty results because when cooking juices from the food hit the patented Flavorizer Bars below the cooking grates, they run down the angled sides and are converted to flavorful smoke. Any excess juices are funneled into the convenient drip pan beneath the cookbox. There's even a warming rack to keep finished food warm and two tool holders to keep the essentials close at hand.